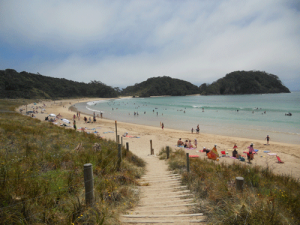 Matapouri Bay is a spectacular white sandy coastal beach with an estuary.
From Matapouri there is a walkway via the coast to Whale Bay with splendid coastal views (40 minutes one way).
The Whangarei Coastal Commuter Tutukaka Shuttle can drop you at the Whale Bay carpark in the morning and pick you up outside the Matapouri store in the afternoon (by arrangement only).
Matapouri Bay offers a local store, playground, tennis courts and toilets.
Matapouri is ideal for a day trip to the beach from Whangarei.
Whangarei Coastal Commuter can provide the transport to take you to Matapouri Bay, then bring you back to your accommodation at the end of the day.